God Don't Like Series

~ Mama Ruby's Series ~
~ A Lonely Heart, Deadly Heart Series ~
~ Dramas ~ Neighbors Series ~ The Lexington Alabama Series ~
---
Annette Goode Davis and Rhoda O'Toole Series
---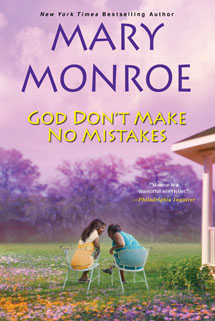 GOD DON'T MAKE NO MISTAKES
In the sparkling conclusion to Mary Monroe's bestselling God series, two forever friends face their biggest betrayals yet and learn the hard way that putting your trust in the wrong hands can change your life forever…
These days, Annette Goode Davis has a pretty full plate—literally and figuratively. Although she's trying to reconcile with her husband, Pee Wee, she's still seeing other men on the side. A woman's got to cover her bases, right? With her love life hopping, Annette should be as pleased as punch. Instead, the stress has her eating everything in sight and packing on the pounds along the way.
Meanwhile, Annette's best friend, Rhoda O'Toole, has her hands full—as usual—dealing with her wild child daughter. Jade has always been a cross to bear, but when her antics almost cost Rhoda her man, Rhoda throws Jade out on the street. But Jade soon finds a way to make Rhoda regret her choice….
Privately, Annette thanks her lucky stars that her daughter, Charlotte, has her head on straight. And she's been doubly blessed to have a strait-laced neighbor look after Charlotte when she's caught up in Pee Wee and Rhoda's many problems. But when Annette's world is rocked by a terrible revelation, she'll discover that appearances can be very, very deceiving—and she'll have to summon every ounce of strength she has to protect the ones she loves.
"Monroe is a masterful storyteller." —Philadelphia Inquirer
---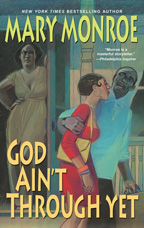 GOD AIN'T THROUGH YET
From New York Times bestselling author Mary Monroe comes a poignant and passionate new novel featuring lifelong friends Annette Goode Davis and Rhoda O'Toole–two women whose best intentions don't always yield the best results. This time around, Annette is devastated when one of her greatest fears comes true—and there may be nothing she can do about it… Even though her life has its ups and downs, Annette Goode Davis feels lucky to have a family who loves her and friends she can count on. Most of all, Annette is grateful that her husband Pee Wee took her back after he discovered she was having an affair. Now, she's determined to do whatever it takes to make her marriage work. The trouble is, while Pee Wee agreed to give Annette another chance, she's not sure his heart is really in it.
Annette goes out of her way to keep Pee Wee as happy as pie, but it never seems to be enough. Rhoda is quick to point out that Annette got herself into this mess; now she has to be patient until Pee Wee forgives her. But time may be running out.
Her suspicions are confirmed when Pee Wee moves out—and in with his new lady. Annette takes the news hard and so does her daughter Charlotte, who seems hell-bent on keeping her mother on edge by hanging out with a wild new crowd.
Annette isn't going to let her family go without a fight. But she also knows she must prepare for the worst—because one lesson she's learned all too well is that when life kicks you in the teeth, you have to come out swinging.
"Monroe is a masterful storyteller." —Philadelphia Inquirer
---
GOD AIN'T BLIND
Forever friends Annette Goode Davis and Rhoda O'Toole are about to learn that even the rockiest relationships can survive just about anything—as long as you're there for each other when it matters most… Annette Goode Davis is a survivor, and while life's obstacles have often knocked her down, she's never let them keep her there for long. To Annette, life is all about family and old friends like Rhoda O'Toole. And right now, Annette needs all the friends she can get…because her marriage is in big trouble, and she has no idea why…
Lately, her husband Pee Wee barely has the time of day for Annette and she suspects he may have fallen for another woman. Desperate to regain his affections, Annette goes on a crash diet, gets a total makeover, and looks hotter than she has for a long, long time. Everyone notices—everyone except Pee Wee.
Annette is ripe for the picking when she meets Louis Baines, a handsome young caterer who showers her with attention. Soon, Annette is embroiled in a full blown affair and spending money on Louis like there's no tomorrow. But when Annette learns a terrible secret about her new lover, she realizes she's in way over her head. Her life crumbling down around her, Annette turns to the only person she knows she can trust: Rhoda.
With Rhoda by her side, Annette's determined to find a way out of this mess. But when the truth finally comes out, Annette must face the fact that she may have destroyed the life she loved—and this time, not even Rhoda can help her make things right...
---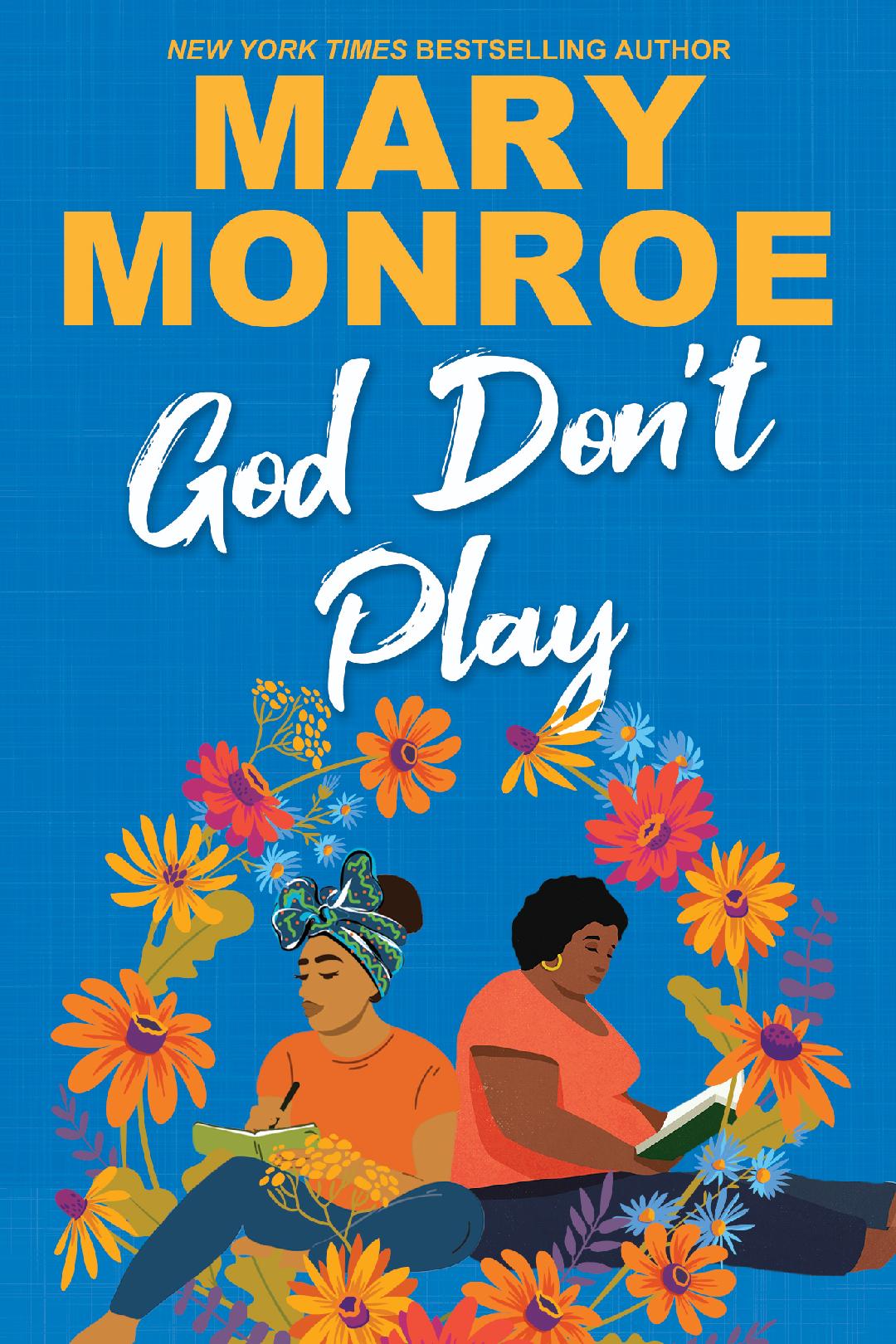 GOD DON'T PLAY
Annette and Rhoda, survivors whose friendship has traveled a long and extremely rocky road, are content, having freed themselves from lies, violence, abuse and---at various times---each other. For Anette especially, right now life is good---but someone is not happy about it. Menacing letters, phone calls, and packages target Annette, undermining her among family, friends and community. Rhonda and her teenage daughter Jade do their best to shield her, but when Annette's child is threatened, she prepares to fight back in a face-to-face showdown that will change the lives of those she loves best.
Audio interview with Bill Thompson on Eye On Books
Authors In Your Pocket(tm) Podcast Featuring Mary Monroe Discussing "God Don't Play" Click here to watch and listen to the graphically enhanced podcast!
Bookclub In Your Pocket(tm) Podcast Featuring Mary Monroe and the RAWSISTAZ Literary Group Discussing "God Don't Play" Click here to watch and listen to the graphically enhanced podcast!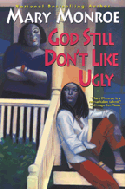 GOD STILL DON'T LIKE UGLY
Growing up, Annette Goode thought all men were as low-down as the father who abandoned her. There was Mr. Boatwright, the boarder who abused her for years—until her best friend Rhoda murdered him. And what about the men she slept with to earn the money she needed to run away from her life? None of them was exactly the picture of chivalry. But now, after decades of soul searching and heartache, Annette has reunited with the father she never really knew. She's severed all ties with the dangerously unstable Rhoda. And finally her real life has started to take shape. Or so she thinks…

Things start to fall apart at—of all places—Annette's own pre-wedding celebration, where a guest reveals that the beautiful bride-to-be once turned tricks for a living. When her fiancé pulls a disappearing act, Annette reunites with Pee Wee Davis—the man who has been her on-again, off-again sweetheart since childhood. It's not a great life, but it's a pretty good one.

Yet Annette still holds the secret of her ex-friend Rhoda's murderous past deep in her heart. She knows it's a burden that will torment her until she can put it to rest. So when Rhoda suddenly walks back into her life, Annette must decide what she should believe—and what she can forgive—as she tries to salvage the one relationship that she just can't seem to let go…
---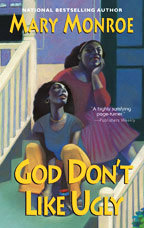 GOD DON'T LIKE UGLY
In her richly drawn debut novel, Mary Monroe brings to life the bond between two girls from opposite sides of the track—and the shattering event that changes their lives forever.

At the heart of the story is Annette Goode, a shy, awkward, overweight child who keeps a terrible secret. Mr. Boatwright, the boarder her hardworking mother has taken in, abuses her daily. Frightened and ashamed, Annette withdraws into a world of books and food.

But the summer Annette turns thirteen, something incredible happens: Rhoda Nelson chooses her as a friend. Dazzling, generous Rhoda, who is everything Annette is not—gorgeous, slim, and worldly—welcomes Annette into the heart of her eccentric family, which includes her handsome and dignified father; her lovely, fragile, "Muh'Dear;" her brooding, dangerous brother Jock; and her colorful white relatives—half-crazy Uncle Johnny, sultry Aunt Lola, and scary, surly Granny Goose.

With Rhoda's help, Annette survives adolescence and blossoms as a woman. But when her beautiful best friend makes a stunning confession about a horrific childhood crime, Annette's world will never be the same.

Set on the streets, porches and parlors of 1960s and 1970 Ohio, God Don't Like Ugly sparkles with clear-eyed wit and uncompromising honesty. Readers will find this remarkable new novel full of laughter, inspiration, and pure enjoyment.
---
LBP Enterprises LLC